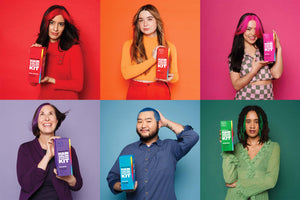 THE ALL-IN-ONE FOR ONE-OF-A-KINDS
INTRODUCING:
HAIR COLOR STARTER KITS
Pro-level color is at-home easy with our all-in-one Hair Color Starter Kit.
For the dye-curious.
Good Dye Young's Hair Color Starter Kit contains everything you need to add a pop of color to your hair.
Available in 6 shades.
SAY YES, YES, YES TO OUR PRODUCT FORMULAS
CRUELTY-FREE
FREE OF A LOT OF GROSS CHEMICALS
VEGAN
NATURAL SUNFLOWER EXTRACT
MADE WITH LOVE IN THE U.S.A AND CANADA
hair color starter kit: Ex-Girl
$22.50
What's Included:
Semi-Perm Hair Color (2 fl oz)
Lightening Kit (2 fl oz)
Brush and Bowl
Gloves Clips (2 qty)
DYEposit Color Depositing Mask (.024oz)
1. STREAKS & STRANDS SEMI-PERMANENT HAIR DYE
Our 2oz size is the perfect amount of color for money pieces, buzzcuts, bangs, dip-dyes, and everything in between!
2. streaks & strands lightening kit 25 volume
Pre-measured kit contains a 25 volume developer that is powerful enough to lift the hair while being safe for at-home lightening.
3. DYEPOSIT PACKETTE
A single-use version of our best-selling color depositing hair mask to maintain your color after dyeing.
4. BRUSH AND BOWL
This brush and bowl set is the perfect size to mix and apply your lightening kit and semi-perm dye. Separately, of course.
5. GLOVES
Prevent skin irritation and staining with these latex-free gloves, found inside the lightening kit.
6. 2 GRIP CLIPS
Sectioning your hair has never been easier! These matte alligator clips are will securely fasten your hair while lightening and dyeing.
Not Pictured: Step-by-step Instruction Pamphlet
(noun)  a small section of vivid colored hair that adds a pop of color to your look
before
after lightening
after dyeing
Create your own unique look!
streak out and strand out
new hair, who 'dis?
Don't be afraid to get creative with our starter kit for bold, beautiful hair.
mission
Good Dye Young cultivates a safe and inclusive community that values vibrant self-expression and creativity. We also make bad ass hair products.
GDY is an extension of Hayley & Brian's shared passion to provide a brand that breaks down that wall of just being a company, and creating a community you can be a part of, empowered by tools that encourage your freedom of self-expression.