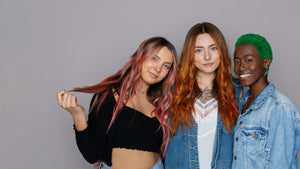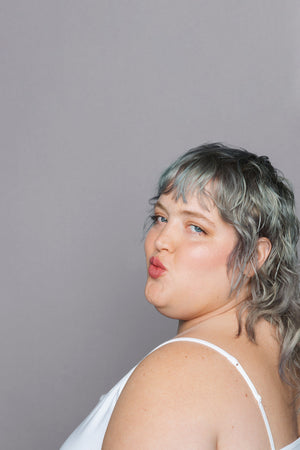 CLEANSE.
TONE.
HYDRATE.
BOND.
Maintain your shade with this multi-benefit, easy-to-use color depositing mask!
DYEPOSIT
Cleanse, tone, hydrate, and bond those locks with DYEposit.

Whether you're blonde, brunette, or any color of the rainbow, we have a hue for you.
4-IN-1
1. CLEANSE
Avocado oil helps to soothe the scalp, repair the hair shaft, and protect strands from UV and environmental pollutants.

2. TONE
Ultra creamy formula that bonds and deeply conditions while enhancing color. With 6 vibrant shades and 4 natural tones to choose from.

3. HYDRATE
Packed with salon quality ingredients including coconut oil, shea butter, and broccoli seed oil to add moisture and shine.

4. BOND
Fiberhance™ bonding technology repairs damaged hair from the inside out.
★★★★★

I love this! The conditioning aspect leaves my hair so soft and looking healthier than usual. This has given me an easy, fun way to give my hair some attention.

Kylie C.

Red DYEposit
★★★★★

Brassy no more! From first use I noticed a huge difference with my full head of (tired) highlights. I left the product in for 10 minutes, rinsed and could see how much my warm colour had lifted even when wet. Buzzing to order more!

Jennifer B.

Platinum DYEposit
★★★★★

I was very surprise with the results. My hair felt so vibrant and healthy, the smell and the colour were gorgeous. I regretted not buying another unit, but I'll definitely get it again.

Monica M.

Copper DYEposit